Culp Dental Legacy in Rock Hill, SC
A Legacy of Exceptional Rock Hill Dentistry
Our Mission
When our patients thrive, so do we. We see it as our mission to treat every patient like they're the only ones in the room. 1) Because of course they are, and 2) because every set of teeth is different, and individualized treatment is the key to both stronger oral health and greater overall well-being.
Remembering Dr. William L. Culp, Jr.
Our practice has a proud history of serving patients in Rock Hill, SC, for decades. The late Dr. William L. Culp, Jr. opened his general dentistry practice in 1981 after graduating from the dental school at the Medical University of South Carolina with a Doctor of Dental Medicine (DMD) degree. He continued to practice dentistry until early 2018. Anyone who met him in a dental environment would agree that he loved every moment of it.
Dr. Charlie Culp
In the summer of 2011, Dr. Charles W. Culp and his twin brother, Dr. Alexander J. Culp, began seeing patients at Culp Dental. Together, the brothers furthered their father's passion for professional, compassionate care while developing a name of their own. In the Summer of 2014, Dr. Alex moved on from the practice to pursue formal training in two dental specialties.
Today Dr. Charlie carries his father's same philosophy into every appointment. Dr. Charlie advocates a style of dentistry that puts a premium on listening and experience, living up to the rigorous standards set out by the American Dental Association. His greatest pride comes from the community of regular, satisfied patients that he's helped build right here in Rock Hill.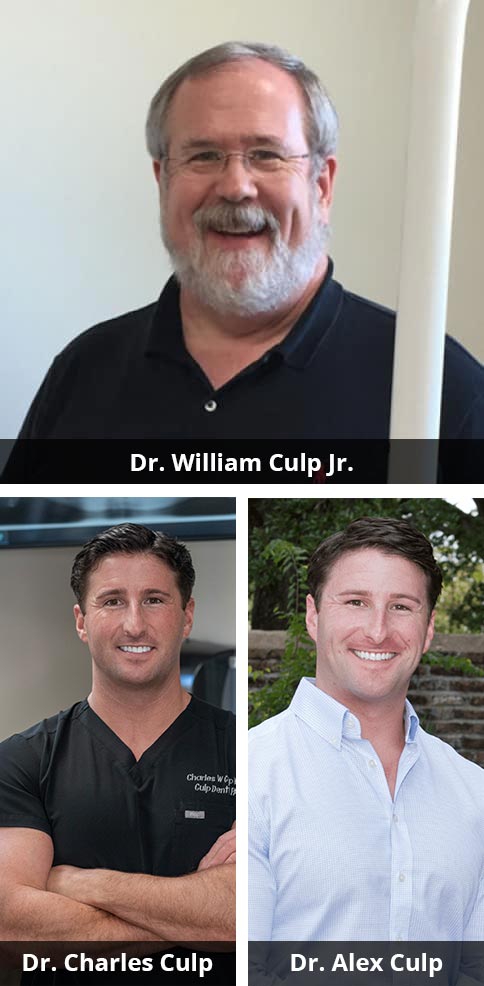 As one of the premier dental practices in Rock Hill, SC, our dentist and team at Culp Dental also provide 5-star dental care to patients from Fort Mill, York, Chester, Clover, Lake Wylie & Lancaster, SC & the surrounding areas.